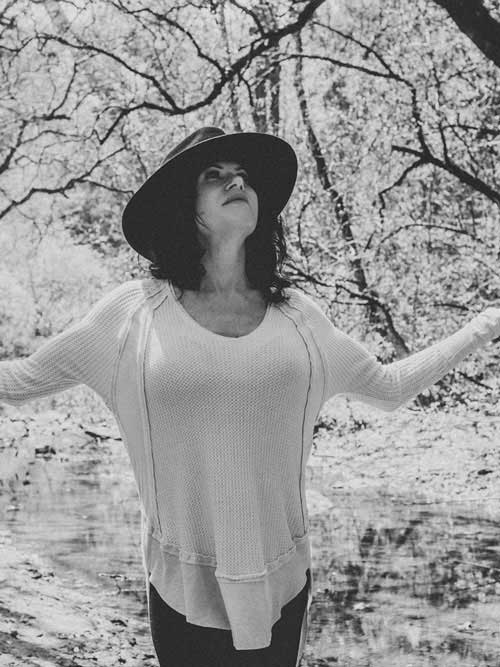 Certified Human Potential Coach
Through highs and lows, hardships and triumphs, I have become the person I am today. I've learned to lean into the change with curiosity and welcome the transitions with open arms.
Each day I'm committed more and more to the path of loving presence. I'm devoted to living an authentic life and the unfolding process of becoming. The last couple of years have brought a surprising new development; I'm less frenetic and slowing down to a more graceful pace—one of the many extraordinary gifts of stepping into my 50s. As outdated beliefs and personas fall away, insights drop from the heavens like stars. I bring more presence to my relationships and my work, and my ears are more keenly attuned to my inner voice of wisdom.
I'm a multi-faceted woman with many interests. Snake magic is my superpower. Reinvention is a constant theme; I shed and transform all the time. 
I'm a proud mother and grandmother. For the last 9 years I've been a devout qigong practitioner. Health and longevity are passionate elements of my lifestyle. I'm committed to living a creative life. Over the years I have penned poetry, dabbled in spoken word and performance art, created qigong forms and written a memoir. I draw inspiration from the contemplatives, mystic poets and being outside in nature.
I love chocolate and French wine, water, and wildflowers. I've known for over 20 years that my purpose is to be a conduit of transformation for others. I work with anyone ready to up-level their life but have a special place in my heart for women who seek to awaken and express their wild feminine essence.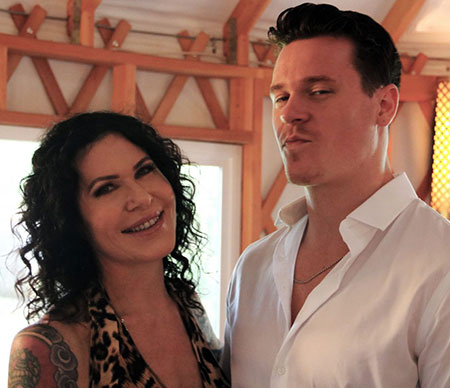 I'm a Tao Tantric Arts certified Sacred Femininity Facilitator and a certified Human Potential Coach. My specialty is helping people become bad asses in the bedroom so they can experience the extraordinary pleasure that is their birthright.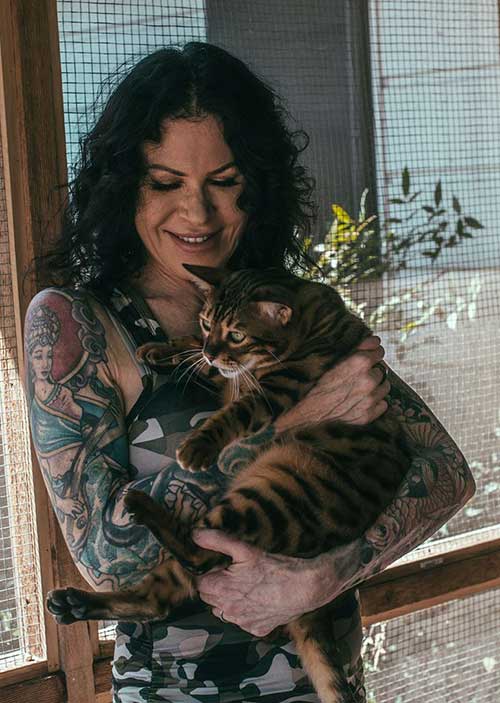 You might be surprised to learn that, with the exception of a stint working as an armed PI, I've never held a mainstream job. Oh, and that I lived as a nun for almost 2 years. Yes, an out-of-the-box, new-age nun, but I lived by the commandments and was zealously devoted to being a servant of the light. If you want to hear the twisted tale check out my novella, Surviving Starcrest Academy.
Much of my training is centered in the somatic and esoteric arts. I'm an authorized facilitator of the Non-Linear Movement Method, Wild Woman's Way and The Intimacy and Attraction Workshop®. Early influences came via Vin Marti's Soul Motion and years of study with David Deida. I've been a licensed massage therapist for over 20 years and once owned a school that certified Feng Shui practitioners. I'm passionate about love, relationships, and creating deeper connections with self and others. This led me to a deep, personal exploration of Tantra and sacred sexuality.
In 2010, I completed my qigong certification through Yun Xiang Tseng, a Wu Dang Taoist Priest. My shamanic training came through Alberto Villoldo, founder of the renowned Four Winds Society Light Body School. I also trained at the Somatica Institute, known for its revolutionary sex and relationship coaching methodology.
In 2022, I was honored to become a Tao Tantric Arts Certified Sacred Femininity Facilitator. This experience was transformational for me and expanded my priestess training through an intensive 250+ hour certification under the instruction of Minke de Vos and Shashi Solluna. At this training, I became even more aligned with my purpose to act as a guide through the feminine arts.
Owning our story and our past feels vulnerable, but it's brave and, ultimately, it's the path to liberation. Fetish Girl became a spiritual journey to craft my story into art. 
None of us should hide in the dark. There's nothing more powerful than bringing one's darkness into the light. We become unshameable.
There were many reasons that motivated me to write a memoir including the death of my best friend, turning 50, and a commitment to living a creative life, but ultimately it was the next step in my development.
Read More About Bella's History >
Interview With MysticMag: Enhancing  Your Sexuality
Curious if we'll click?
Schedule a free 20 Minute consultation with me!